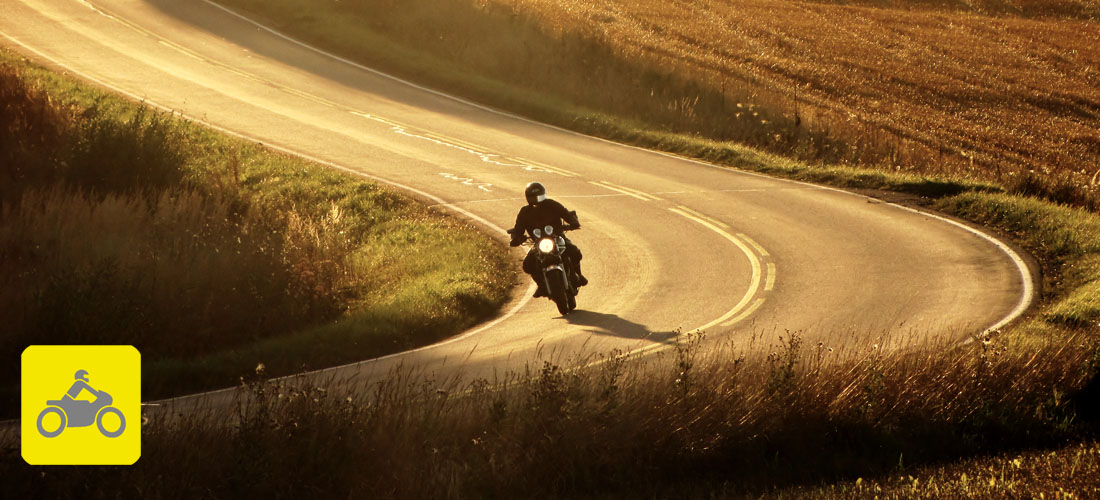 Turns counter
Waypoint storage**
Display of lean angle or
of lateral acceleration (vehicle)*
Selectable displays of additional information (p.s.b.)
Recording, display and export of trip- and bends-data
The own GPS position can be viewed on a map or sent by SMS
The operation of BikeTrip is also possible in background e.g. parallel to a navigation app
Developed by a motorbiker for motorbikers!

*) The leaning angle / lateral acceleration is not directly measured (error-prone – see Technical Details) but computed from GPS travel data. This is quite accurate with a speed above 20 mph.
**) The storage of a waypoint while traveling is possible with the aid of the proximity sensor. You just have to move your hand towards the screen.


Permanent Displays: *
Display of lean angle or
Variometer (leaning and slope gradient similar to the display in an airplane cockpit) or
Lateral acceleration (for use in a 4 wheel vehicle)
Turns counter
Direction of travel / Compass
Altimeter
Selectable Displays: *
Slope gradient in percent (with iPhone 6)
Speed (mph or km/h)
Time
Length of trip
Duration of trip
Pure travel time
Average speed including time periods not moving
Average speed without time periods not moving
Maximum speed
Maximum leaning
Maximum altitude
Total ascent (total of meters/feet gone uphill)
Number of track- and waypoints
Accuracy of GPS signal
*) Display in English available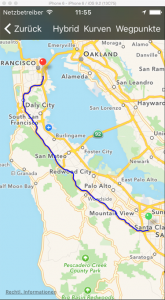 Recording of a Trip
All data will be recorded during the entire trip.
The route of the tour will be viewed on a map.
The tour data can be exported (to Dropbox or by email).
The used export format (.gpx) allows transferring the data to other programs for display or editing.
The route of the tour can be simply sent as a HTML-file to be viewed directly in any internet browser at any desired scale.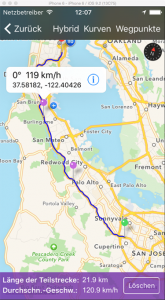 Tour data / Length of Section
At any point of the trip the lean and speed can be viewed.
When two trip points were selected, the length of the trip section between them and the average speed will be displayed.
Any tour point can be stored as a fixed waypoint.
The collected waypoints can be exported as a .gpx file
In this way any tour can by described by any number of selected waypoints, which can then be converted to a route file for any navigation device.*
At the recorded corners apexes the local data (leaning, speed) also can be displayed.
*) To convert / edit export files of BikeTrip on the PC, the free open-source tool "RouteConverter" (www.routeconverter.de) is recommended.

The recorded bends are listed and can be viewed on a map.
The bends can be sorted chronologically or by leaning angle.
All data of the recorded tours are listed.